Mawra Hocane Shoots For Movie Sanam Teri Kasam: View Pictures
Mawra Hocane, the popular Pakistani model turned actress, was spotted to be shooting for her upcoming Bollywood Movie, 'Sanam Teri Kasam'. While the youthful actress is quite well-known in Pakistan, such is not yet the case for her in Mumbai – allowing her to work on her Bollywood project in relative peace and secrecy.
Read More: Mawra Hocane's Bollywood Debut Movie Titled as Sanam Teri Kasam?
Not much is known about Mawra Hocane's Bollywood debut film, but she has previously compared it to Aashiqui 2, calling it a "beautiful story".  It is as of yet unknown whether the movie is a remake of the 1982 movie 'Sanam Teri Kasam'.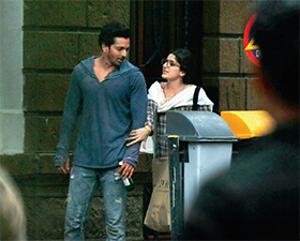 Hocane's upcoming movie is directed bu Radhika Rao and Vinay Sapru. The Pakistani actress will be starring opposite Harshvardhan Rane – who will also be starting his Bollywood career with this movie. A debut poster of the 'Sanam Teri Kasam' was revealed last month.
Read More: Mawra Hocane's Bollywood Debut Movie Sanam Teri Kasam Poster Revealed!
The much-anticipated movie is expected to have an 8th January 2016 release date.
Related
Comments
comments