Dunkin Donuts Pakistan Welcomes Indians With Amazing Offer
Despite numerous challenges, including poverty and terrorism, Pakistanis never fail to show that they have big hearts. While the Pakistani family of six members was denied accommodation by 40 Mumbai hotels to spend a night, a compassionate Pakistani has put up an exciting offer for the Indian guests visiting Pakistan.
Iqbal Latif, a London-based Pakistani took a great initiative to welcome the Indian nationals on a short-term visit to Pakistan. He runs 26 franchises of Dunkin Donuts, world's leading baked goods and coffee chain in Islamabad, Lahore and Peshawar. The humble Pakistani offered a free meal and a donut as a goodwill gesture to promote peace, solidarity and friendship among the countries.
Read: Bollywood Celebrities Criticize Shiv Sena Attacks on Pakistani Artists
The businessman was deeply saddened that the Pakistani family, who came to Mumbai to pray at the Haji Ali 'dargah' for their mentally challenged child, had to spend a night at pavement after they were refused accommodation in Mumbai hotels.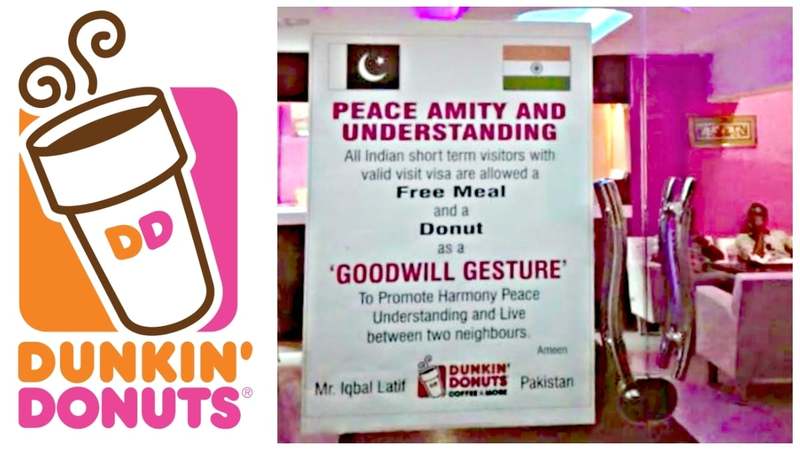 He added that his effort is nothing but an example to highlight the teachings of Gandhi who practiced and preached love and brotherhood.
The offer went up on October 16, 2015, soon after the news of the stranded Pakistani citizens broke out. It was met with a great response, resulting up to 30 percent rise in sales.
The owner has claimed to serve 2,432 people in Peshawar, Islamabad and Lahore after introducing this offer. He stated to serve 17 meals to Indians on the first day at a Dunkin Donut outlet in the Diplomatic Enclave of Islamabad.
Read: Indian Girl Geeta May Be Mistaken About Her Family
While India's extremist party, Shiv Sena has hurled threats to Khurshid Kasuri ahead of his book launch and forced cancellation of Ghulam Ali's concert in line with its tradition of opposing cultural and sporting relations with Pakistan, a small goodwill gesture from people like Iqbal Latif is a testimony that citizens from both sides of the border want peaceful and friendly relations.
Recently, an Indian NGO has raised Rs1.3 million for 15-year-old Karachi resident who is suffering from Wilson's disease — a rare genetic disorder.
Related
Comments
comments