Tests Reveal Apple iPhone 6s Chipgate Battery Controversy is Exaggerated
Apple also uses parts of multiple manufacturers to meet the requirement of its products.
Recently, a controversy surfaced about the battery life of  iPhone 6S and iPhone 6S Plus because some of these models have Samsung A9 processor chip and some come with TSMC chip and some people claim both differ in battery performance.
According to this controversy, TSMC A9 chip-gate is efficient than of Samsung's chip that drastically reduce the battery life.
Apple had categorically stated about the two different chips used in iPhone 6 and iPhone 6s models that these were tested numerous times and the difference fall between 2-3% range, and the controversy-mongers propagated that Samsung chip consume battery quite differently.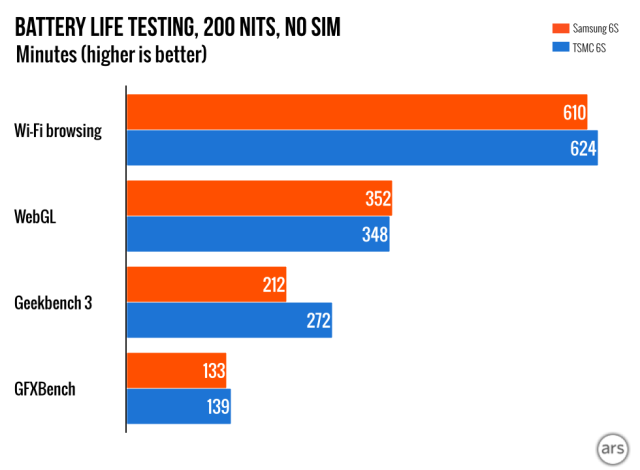 The benchmark test results prove that TSMC chip's performance is slightly better than Samsung's chip and holds Apple true in claiming that the variation in battery life ranges from 2-3%
The tests also show that most of the time battery timing of iPhone 6s and iPhone 6s Plus remains same irrespective of which chip your phone has, except in scenarios like Geekbench 3 that requires power-hungry performance.
So now this overblown debacle must end once for all as Apple did not cheat its users and it came out clear in the end. It is pertinent to mention here that the parts sourced from multiple manufacturers will certainly perform a little differently, but as long as the differences are small, customers don't care about it.
Related
Comments
comments