Pakistan's Cinema Industry Records Massive Growth as Hollywood & Bollywood Declines
Pakistan's cinema industry is enjoying a magnificent era of renaissance. Gone are those days when movie-buffs thronged the theaters, eager to watch a Hollywood or Bollywood flick. Now, our new-age movies have gleefully snatched their limelight, recording a glorious growth of 70% as compared to the international releases in the nation.
The epic rise in the growth rate of Pakistan's cinematic ventures do not come of much as a surprise. This year alone, the local entertainment industry has reaped unparalleled achievements and reinstated the movie industry back to its feet.
Statistics reveal that till August 2015, a sum of 85 movies greeted theaters of the nation and around 11 of them were Pakistani.
Related: Top 10 Highest Grossing Pakistani Movies of All Time
Seemingly, September turned out to be the luckiesttime for the now revamped Lollywood industry. In an overwhelming news, Jami's Moor became Pakistan's entry for Oscars 2016 and will be competing with 80 other entries of foreign films, submitted by nations from all over the world.
What's more, the month welcomed the blockbuster champs Manto and Jawani Phir Nai Ani, both successful in minting massive money over the box-office. While Sarmad Khoosat's magnum opus Manto is bagging accolades and receiving rave reviews form its worldwide screenings, JPNA has conquered the country's cinema scene and unlocked the achievement of being the highest grossing movie released in Pakistan.
Read more: op Movie Releases of 2014 & 2015 in Pakistan: Infographic
Basking in perpetual glory, the film single-handedly shattered the records set by Hollywood's Fast & Furious along with Bollywood's Dhoom, P.K and Bajrangi Bhaijaan.
Check the list of all-time grossing movies in Pakistan and their profit earned below, as released by Boxofficedetail.com
Jawani Phir Nahi Ani  26.5+corer
Fast & Furious 7 25.05corer
Dhoom 3. 25 corer
P.K. 23.5 corer
Bajrangi Bhaijaan 23.3 corer
Waar 23 corer
Amongst local ventures, JPNA has crossed Waar which previously held the throne of the highest-grossing Pakistani movie. However, this is really not the end of a victorious voyage for ARY's hit as it is all set to explore more territories.
More details here: Jawani Phir Nahi Ani Becomes Highest Grossing Pakistani Movie Ever
Earlier in 2014, X-Men was the highest grossing Hollywood movie, PK ruled in the Bollywood category while the Pakistani film 'Na Maloom Afraad' turned out to be one of the most entertaining comedy thrillers of the year.
We can proudly say that with time, our local theatrical ventures have proved to be overpowering enough to draw Pakistan's moviegoers to watch entertainment being produced in their homeland.
Check out this infographic, providing a deep summary of the main releases and the best performers at the box office in Pakistan.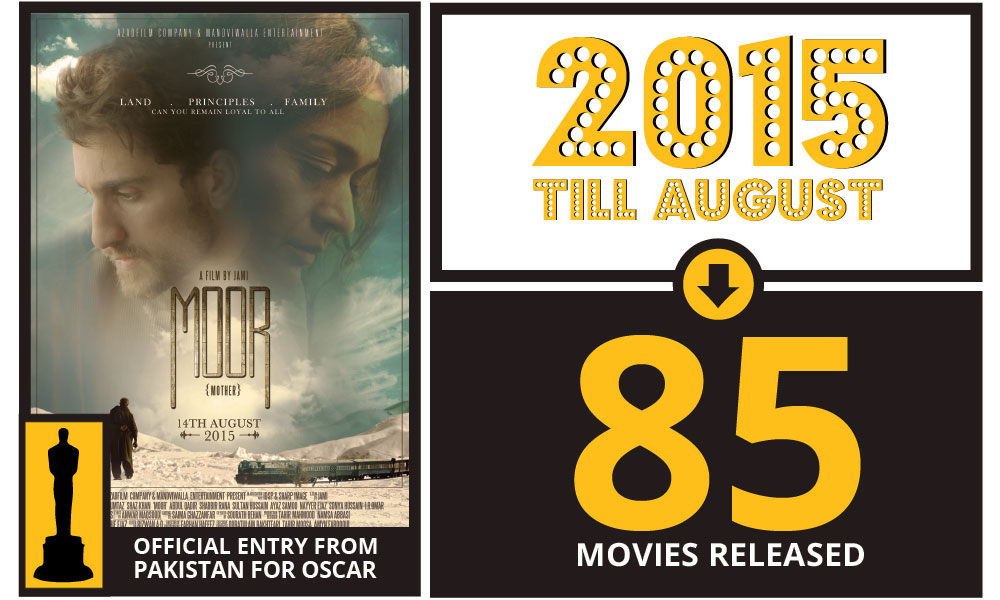 Related
Comments
comments